The BC damper's installation and adjustment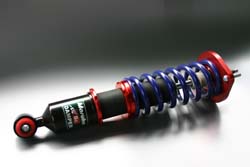 The BC damper is being produced depending on the order number.
Starting with the upper mount, the case, the rod etc. everything is Maruha's exclusive design.
Recommended car height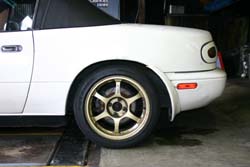 If the customers get their damper installed at Maruha, at the same time we carry out height adjustment too.
Taking advantage of one of the BC damper's characteristics - the function of complete height adjustment - we can keep the vehicle height.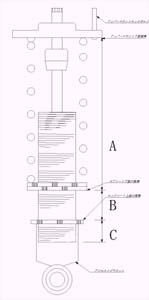 The recommended height is 590-600mm from the ground to the fender arch.
Even in the user's manual the height is the same.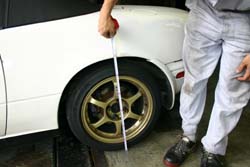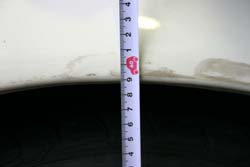 Confirming the distance between the ground and the fender arch with a measuring tape
In this case it is 590mm, which is a good height.
Vehicle height adjustment
We've already mentioned many times that the vehicle height can be adjusted while maintaining the stroke.
We don't just turn the bracket on the bottom but turn the damper itself too. This is the most effective way of adjustment.
There is a secret too:
1. jack it up, don't put too much stress on the suspension
2. before installation remove the adjusting bracket, apply grease to it, preventing sticking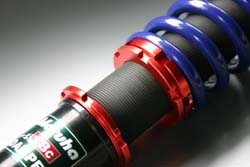 The ring on the bottom is the adjusting bracket's lock sheet.
By loosening it we can lock the upper lower sheet (double).
If we turn it with the damper itself, the height adjustment becomes easier.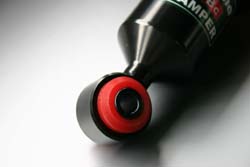 It is better to remove the bottom adjusting bracket and apply grease to it.
The adjustment carried out next day will become easy.
Vehicle height and the settings
The basics are keeping the stroke by adjusting the vehicle's height using the adjusting bracket, but there are some additional things too.
The vehicle's height can be adjusted without using a helper spring, adding precise preload, the vehicle's height can be adjusted.
[home]
Maruha Motors Co., Ltd.
Ushizuma 2095-6, Aoi-Ward
421- 2106 Shizuoka city, Shizuoka prefecture
Japan
TEL: 0081-54-294-0076
FAX: 0081-54-294-1312
E-mail: info@maruhamotors.co.jp