Slide cam pulley Mazda Miata NA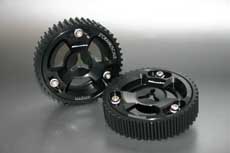 Maruha Motors' slide cam pulley has become new.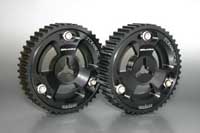 The slide cam pulley adjusts the camshaft's valve timing.
For further information about the valve timing check out this page.
Characteristics
The outer gear is made of extra super duralumin (material A7075).
Extra super duralumin (material A7075) is being used for example for airplanes and is the strongest high-quality material out of the aluminum alloys.
The outer gear has been anodized and we got a HV400 hardness.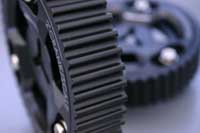 The friction area of the timing belt is treated with hard coating and aluminum.
Compared to the genuine pulley (cast iron) our new pulley is 16% lighter.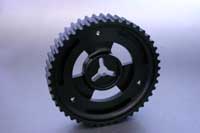 Alumite processing with a white scale allowing better visibility.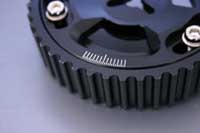 If you set the scale to the center, its function will be equivalent to the genuine cam pulley.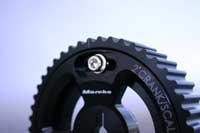 The slide cam pulley is an indispensable item when we are considering a better valve timing after the exchange of the camshaft. However, it is also important to the head surface treatment, the head gasket's change etc.
Can be used to the NB EX side
Unlike in the case of NA, in NB (EX side) we don't detect the cam's position and for this reason Maruha's cam pulley can be used.

[home]

Maruha Motors Co., Ltd.

Ushizuma 2095-6, Aoi-Ward

421- 2106 Shizuoka city, Shizuoka prefecture

Japan

TEL: 0081-54-294-0076

FAX: 0081-54-294-1312

E-mail: info@maruhamotors.co.jp