Maruha Carbon pad CC-27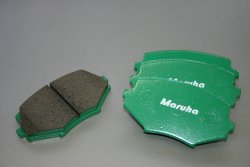 NA6CE
NA8 NB
NB8 RS NB6(NRA)
NC
4pot caliper

After seriously considering the control characteristic which reacts to linear, Maruha started advancing the development of carbon pads in addition to the Pedal touch controls.

Maruha's easy to use carbon pad has been tested on several domestic circuits and mini- circuits.
Special attention has been given to the gcontrol garea in addition to gstoppingh.

The GT kind of pad, which is used for 24 hour endurances in professional race, is sold on the market at a very high price.

The real professional GT pad is different from the Maruha CC-27 and we use the raw materials which have heat durability features and are used in the frictional materials.

CC-27 achieves balance between frictional materials; raw materials, original metal and also reinforces the heatproof durability nature and can tolerate temperature of 850 degrees.

Maruha adopted the semi sintered method with individual know-how with regards to frictional material.

Compared to CC-27 the standard professional GT Pad (DS3000 of FERODO) has superior heat durability.
Therefore, it is unreasonable to use CC-27 with endurance, F3000, formula, Indy etc. for 24 hours.

The carbon pad designed by Maruha, is popular among the youth for its control, multiple use and its competitive price.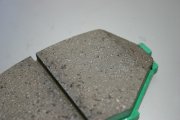 CC-27 is the frictional material which was created with an original method.
It is the kicking power from a low temperature which differs completely from the carbon material of other companies.
While being effective even from low temperatures, considering early damping force, you can use it without using the air even while braking on streets.
Moreover, as for the carbon metal of other companies the rotor aggressiveness is strong, and the wear out of the rotor is intense, whereas in CC-27 there is little rotor aggressiveness, more fairly in comparison with other companies.
The lower adhesion rate is another characteristic and relatively dust is less than in the case of the carbon metal of other companies.
For many of you, the noise of the brake might be disturbing while driving on the streets and you end giving up on it.
CC-27 makes less noise than other carbon materials.
The characteristics of CC-27 are obtained from the balance of the carbon metal and the heatproof fiber.
(Attention)
Compared with CC-27, the standard Maruha Lineup is clean and smooth.
However, being a carbon part CC-27 is a little noisy and dusty.
However, Maruha CC-27 carbon pad is a competitive product and is less noisy and dusty compared to other manufacturers.
[home]
Maruha Motors Co., Ltd.
Ushizuma 2095-6, Aoi-Ward
421- 2106 Shizuoka city, Shizuoka prefecture
Japan
TEL: 0081-54-294-0076
FAX: 0081-54-294-1312
E-mail: info@maruhamotors.co.jp