Mazda Miata NA headlight set
Headlight set (KOITO)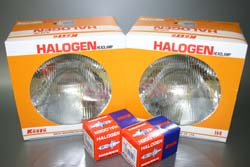 The genuine headlight of Miata/MX-5 NA is a shield beam type.
In other words it is a type where the bulb cannot be exchanged.
We recommend a type with bulb exchange.
KOITO's headlight also contains 2 spare bulbs.
It is a very reasonable set.
About the KOITO headlight
The lense is flatter than the genuine one.
It is made of glass.
It isn't a light plastic type but a glass one.
RAYBRIG multi reflector headlight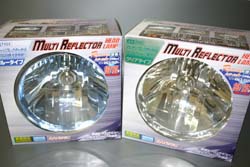 It is a popular light weight headlight set.
It is a standard product on the Miata/MX-5 market.
Its power consumption is 60/55W and 130/125W. It uses the highly efficient RAYBRIG hyper halogen.
[home]
Maruha Motors Co., Ltd.
Ushizuma 2095-6, Aoi-Ward
421- 2106 Shizuoka city, Shizuoka prefecture
Japan
TEL: 0081-54-294-0076
FAX: 0081-54-294-1312
E-mail: info@maruhamotors.co.jp