28R Type-C / Clutch set for NB turbo
We have already written about the NB turbo stabilizer's diversion. This time we would like to talk about the clutch.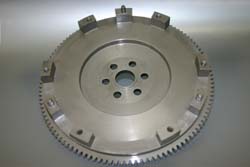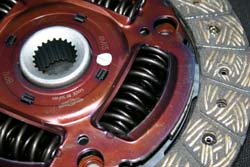 28R/clutch set for turbo
172PS and 21kg torque is not that easy to get in the case of NA tuning.
Our customers who use the turbo clutch are very satisfied with it.
Now, let's take a look at the data:

Clutch cover
Setting load
Conventional product
NA8/NB8
440kgf
For turbo
530kgf
Clutch disc
Outer side x inner diameter
Conventional product
NA8/NB8
215x150mm
For turbo
215x155mm
The crimp force is higher with around 100kgm but the disc's surface became more narrow because the inner diameter became bigger.
Furthermore, keeping in mind the engine with high torque, the shock absorbing damper has been turned into a double spring.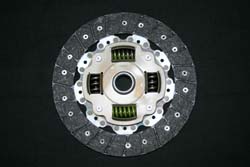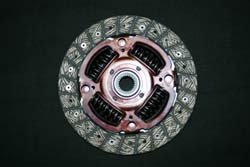 Left: conventional product NA8/NB8
Right: for turbo
The disc's thickness
Flywheel side
Cover side
Conventional product
NA8/NB8
8.6mm
3.5mm
3.8mm
For turbo

8.7mm
3.5mm
3.5mm
If we take a look at the disc for turbo it seems that it is slightly thicker than the conventional one.
However, the disc itself is thinner in the case of turbo because the plate in the center of the disc is bigger.
If you take a look at the picture, you can see that the gap on the turbo disc's center is slightly bigger.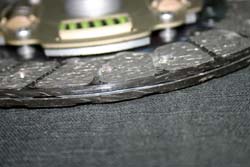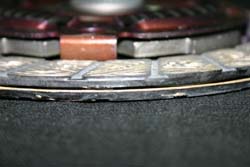 Left: conventional product NA8/NB8
Right: for turbo
However, we might be worried about the weight.
Clutch disc
Weight
Conventional product
NA8/NB8
1148g
For turbo
1466g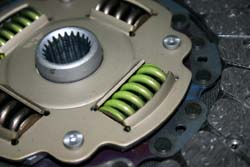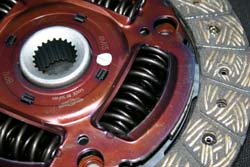 Left: conventional product NA8/NB8
Right: for turbo
Compared to the conventional disc, the damper spring has been made stronger with double construction and by changing the plate. However, these changes make the disc heavier. Furthermore, the edge of the hub at the center spline is thick too.
We can think that the maker didn't prefer a change into high rpm but rather middle rpm. This is why even the variable valve timing function has been abolished.
The most important thing for Maruha is the disc's lightness and quick shift change.
The power clutch's carbon disc's weight is only 500g, the metal one's weight is 800g.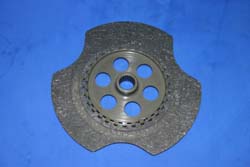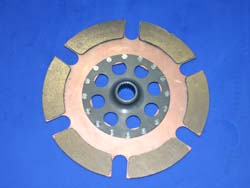 This time in the case of the turbo clutch we thought about users who expect:
1. longevity of the product.
2. strength and reasonable prices.
3. And users who have set up turbo chargers and superchargers.
The 28R kit can be set up even in the case of B6 engine, which means that we can recommend it also to NA6 and NB6 users.
[home]
Maruha Motors Co., Ltd.
Ushizuma 2095-6, Aoi-Ward
421- 2106 Shizuoka city, Shizuoka prefecture
Japan
TEL: 0081-54-294-0076
FAX: 0081-54-294-1312
E-mail: info@maruhamotors.co.jp