Heavy-duty aluminum radiator AT for NA/NB
For NA
The aluminum heavy-duty radiator is Maruha's standard product.
Up till now our lineup contained only the radiator for manual cars but we added the new one for automatic cars.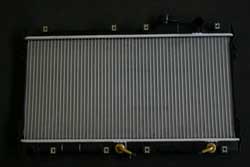 Characteristics
On the market manual cars prevail. However, we were getting lots of inquiries regarding AT cars.
The plastic part's color changes, the coolant leaks from the aluminum core.
Even in the case of AT cars the deterioration is present. For this reason we cannot ignore the AT Mazda Miata.
For the AT cars just like for MT cars the tube is an aluminum wide tube.
It is light and its capacity is big and the cooling effect is very good.
However, in the case of AT cars there are few where instead of the genuine parts there is aluminum wide tube. Think about it more as a maintenance item than a tuning item.
For NB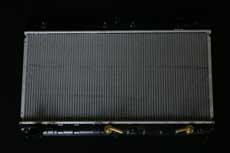 To the radiator specially set up for Mazda Miata NA AT we added a new one for NB.
Characteristics
1.New core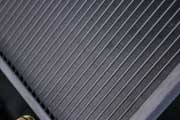 2. The thick core provides sufficient cooling effect.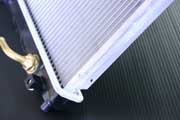 3. The construction is the same as in the case of the genuine radiator. You just have to attach the bolt.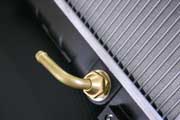 Radiator set parts
Radiator (genuine hose)
Radiator (SFS hose)
It is a set of the genuine hose and the SFS silicone hose.
Radiator cap
To Maruha's radiator belongs an original cap.
The cap's valve opening pressure can be chosen out of 3 types:
0.9kgcm2 1.1kgcm2 1.3kgcm2
The standard for NA is 0.9kg.
The standard for NB is 1.1kg.
We recommend the 0.9kg one for those users who are not planning any tuning and the 1.1kg one for those with slight tuning and who want to run on the streets or are into winding drive.
For those who focus more on tuning we recommend the 1.3kg one.
[home]
Maruha Motors Co., Ltd.
Ushizuma 2095-6, Aoi-Ward
421- 2106 Shizuoka city, Shizuoka prefecture
Japan
TEL: 0081-54-294-0076
FAX: 0081-54-294-1312
E-mail: info@maruhamotors.co.jp