About RECARO
Maruha is RECARO's authorized dealer.
For further information on TS-G/RS-G click here.
In the case of Miata/MX-5 because of the door's wall lining's interference the full-bucket type (SP-G) RECARO seat couldn't be installed, but the RS-G and TS-G were produced especially for Japanese use and they can be installed in all types of Miata/MX-5 (NA, NB, NC) without any interference.
We especially recommend the TS-G type.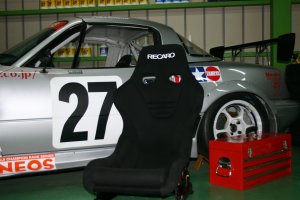 This seat was produced after radically reconsidering the design of the shell-type (FRP seat frame). By modifying its shape higher safety and rigidity have been secured and a stylish low-position was born. We recommend this seat to those users who gave up on RECARO because of its high eye-point.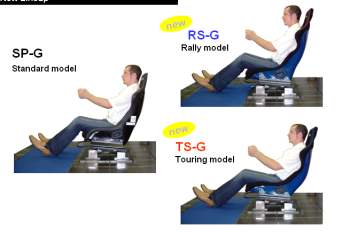 The SP-G type's back-rest's inclination is small and for this reason it is close to a rally position. The whole position becomes higher.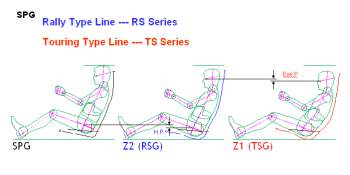 Compared to SP-G the eye-point of TS-G/RS-G is set higher.
Especially the TS-G type's back-rest's shape is special and from this unique setup the eye-point can be lowered easily.
Compared to SP-G the TS-G type's back-rest's inclination is 5°, that's why the eye-point is lower.
The new RECARO's fitting is outstanding and even a 177cm/74kg man can easily sit in it.
Of course, we keep reclining-type and other types of RECARO seats too. Feel free to contact us with any questions.
For the seat's installation a special seat rail is necessary.
The RECARO seats are suitable even for family cars or cars used for commuting.
Even if you change your car, the RECARO seat will still be good.
Importance of the bucket seat
It is perfectly contoured to hold one person and can keep the driver in place when making sharp or quick turns. The RECARO seat "wraps" the driver and makes driving easier and more pleasant. Thanks to the seat you can concentrate on the driving itself better. It gives you the feeling of unity with the seat.
[home]
Maruha Motors Co., Ltd.
Ushizuma 2095-6, Aoi-Ward
421- 2106 Shizuoka city, Shizuoka prefecture
Japan
TEL: 0081-54-294-0076
FAX: 0081-54-294-1312
E-mail: info@maruhamotors.co.jp