SST: Clutch centering tool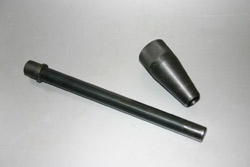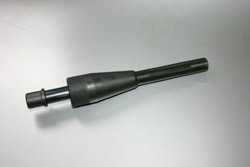 At the time of the clutch's exchange we need a special tool for centering the clutch disc's center.
This time's special service tool is a Mazda genuine tool.
There are also other tools for centering, however, they are made of plastic and their durability is questionable.
Mazda's SST is made of steel and for this reason it is very strong.
Usage of the SST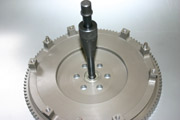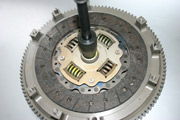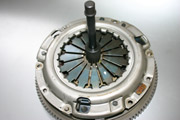 1. After installing the flywheel to the crankshaft we set up the clutch disc, align them with the tool and then carry out centering.
We fit the tool's tip to the flywheel's pilot bearing and center it.
The disc is centered by using the tool's taper.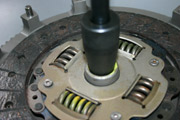 2.In this state we place on top the clutch cover and fix the whole construction with the lock bolt.
If we lock the cover when the clutch disc is not properly centered there might be problems with the fitting of the gear spline and the disc. For this reason the centering tool is a very important helper.
About Maruha's light flywheel
Press fitting of the center pilot
The Miata/MX-5 NA/NB's genuine flywheel is set up with a simple circular hole. We insert the pilot bearing into the hole.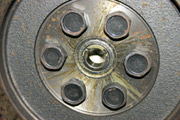 Even though the bearing is fixed well in the hole, if we don't press fit it properly it might slip out of the hole.
When carrying out maintenance of cars that have been driven under hard conditions there are many cases when the bearing falls out from the hole.
As you can see it is possible to check the bearing's state manually but in some cases it might be stuck.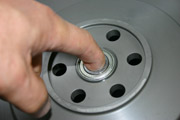 In the case of Maruha's flywheel the bearing is set up in a way that there cannot be lots of stress on it and doesn't get stuck inside.
This means that the bearing's efficiency has dropped and became distorted because of the insufficient press fitting.
The drop in the bearing's efficiency might cause strange noises and might lead to high exchange expenses.
Maruha's flywheel uses a stopper to hold the bearing.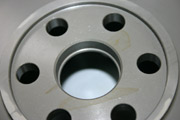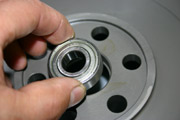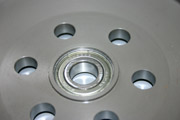 It is being covered by the crank tail and it doesn't slip out of the hole after installation.
Thanks to this setup the bearing's life is very long.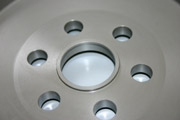 The clutch cover's centering
On the disc centering is carried out but the cover is being fixed with 3 pins on the flywheel.
The flywheel's position and its diameter are being determined by 3D measurement.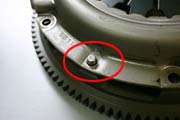 Maruha's flywheel is a precise product and we also consider important the pilot bearing's high efficiency and the pin's fixation.
[home]
Maruha Motors Co., Ltd.
Ushizuma 2095-6, Aoi-Ward
421- 2106 Shizuoka city, Shizuoka prefecture
Japan
TEL: 0081-54-294-0076
FAX: 0081-54-294-1312
E-mail: info@maruhamotors.co.jp