CA-27 (CA-Twenty Seven)-The Best Control
Supported MIATA models: All NA and NB models
Main use for: short track and winding drive( street high speed)
Temperature range:0 degree Celsius (c)- 700 c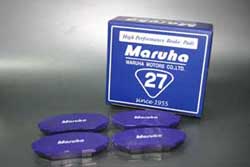 (Photo 1) CA-27 brake pads for front and rear
NA6CE
NA8 NB
NB8 RS NB6(NRA)
NC
4pot caliper
Maruha's brake pad lineup with high quality and reasonable prices has a new model - CA-27 - for short track and winding drive.
CA-27, CA stands for Circuit Attractive. Its features are its firm pedal feeling with quick response and excellent initial bite.
The sports-oriented brake pad is designed to work directly in initial bite without unexpected quick stop, while SR-27 for street sports, needs to be pressed harder on the pedal.
The stable pedal feeling depends on the materials blended with copper and metal powder.
The scorching process, furthermore, helps to reduce initial fade and allows the pad to maintain the stable performance.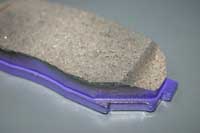 (Photo 2) The scorched surface is the key to braking efficiency during the initial use.
Maruha's brake pad line, including CA-27, has great advantages of lower dusting, low rotor attack performance and good low brake noise.
In addition to this, our new model withstands a wide temperature range from 0 degree (c) to 700 degrees (c) in actual driving situation (just for your information, Maruha SS-27 for daily and street sports use, from 0 degree (c) to 450 degrees (c) and SR-27 from 0 degree (c) to 650 degrees(c)).
We examined CA-27 and found that it performs effectively in more powerful and heavier cars than MIATA by installing the pad in both types of cars.
The results showed that CA-27 worked efficiently in higher-powered cars as well as in MIATA.
Though the brake pad is oriented towards sports driving, it is also designed for daily usage with our policy to produce multi-purpose products.
Graph 1 indicates the wearing speed of CA-27 under street driving conditions.
The horizontal axis stands for degrees of Celsius and the vertical axis indicates the speed that the pad wears. As the temperature goes up, the brake pad wears gradually, but the speed is too low.
Graph 2 relating to Graph 1 shows that the friction coefficient (Mu) in the Y-direction stabilizes at about 0.5.
The graphs reveal that the brake pad keeps good performance in actual daily driving conditions.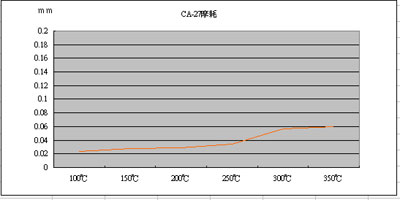 (Graph 1) The wearing speed of CA-27 under temperatures of 100 degrees (c) - 350 degrees (c)
The horizontal axis (X-direction): degrees of Celsius (c)
The vertical axis (Y-direction): the speed of pad wearing (mm)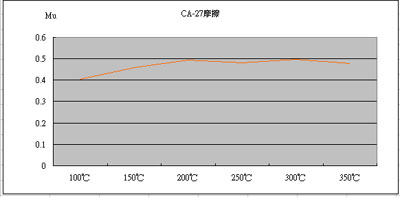 (Graph 2) The changes of the friction coefficients under street driving conditions
The horizontal axis (X-direction): degrees of Celsius (c)
The vertical axis (Y-direction): the friction coefficient (Mu)
Multi-purpose CA-27, besides the high specification, has very competitive price with equal high quality to upper grade products by other manufacturers.
CA-27 is an evolutionary brake pad with much firmer & fully controllable pedal feel, excellent durability, attractive price and really good quality to be used in streets and circuits, featuring all the advantages of our brake pad line.
For further information on SR-27 and SS-27, please visit the individual pages.

[NOTE]
This car accessory should be installed by a professional.
[home]
Maruha Motors Co., Ltd.
Ushizuma 2095-6, Aoi-Ward
421- 2106 Shizuoka city, Shizuoka prefecture
Japan
TEL: 0081-54-294-0076
FAX: 0081-54-294-1312
E-mail: info@maruhamotors.co.jp