Clutch grease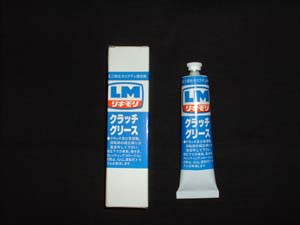 Merits
Molybdenum disulfide mixture.
The molybdenum mixture improves lubricity and the burn-in prevention of the spline etc.
It improves durability by using a thickener that has no dropping point.
Lately, heavy-duty clutches with high crimp force are being widely used. They are made with the effort to make the clutch pedal feeling better but in reality there is lots of stress on the release bearing that pushes the pressure plate's center.
Furthermore, the heat generated by the clutch activity provides very difficult conditions. For this reason, the grease is special, securing longevity.
There is a gap on the release bearing's inner side to collect grease.
We apply the grease to this part.
We highly recommend this item to professionals.
[home]
Maruha Motors Co., Ltd.
Ushizuma 2095-6, Aoi-Ward
421- 2106 Shizuoka city, Shizuoka prefecture
Japan
TEL: 0081-54-294-0076
FAX: 0081-54-294-1312
E-mail: info@maruhamotors.co.jp