303 high-tech fabric guard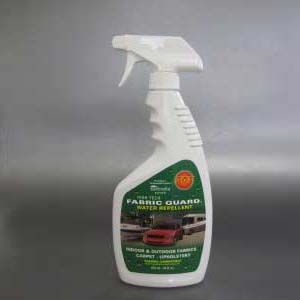 It is a special highly efficient fabric guard meant for the vehicle's soft top.
Note that this product is only for fabric not for vinyl.
1. It is a superb water repellent.
2. It can be easily sprayed on the cloth.
3. It doesn't have a strong smell.
4. It prevents the cloth from deterioration and dirt.

Important
1. It is meant to be used only for fabric. Don't use it for vinyl hoods.
2. Apply it to the dirty hood only after washing it and drying it.
3. Don't use it only on some parts but on the whole hood.
We tested this fabric guard and got very good results.
[home]
Maruha Motors Co., Ltd.
Ushizuma 2095-6, Aoi-Ward
421- 2106 Shizuoka city, Shizuoka prefecture
Japan
TEL: 0081-54-294-0076
FAX: 0081-54-294-1312
E-mail: info@maruhamotors.co.jp