MAHLE BP (83mm) PISTON Mazda MX-5 Miata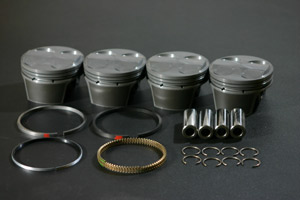 Mahle is recognized all over the world as the piston maker for major race engines including Formula 1 or high class sports cars.
For example, pistons used in Ferrari, Porsche and Lamborghini are also manufactured by Mahle.
Pure pistons are manufactured by Mahle.
Keeping in mind the highly efficient car engines of traditional European cars, Maruha Motors introduces BP (83mm) PISTON.
The cost-down is planned with the pure casting piston even though it is a high compression style.
The unique point of Maruha BP (83mm) PISTON is its "just fit" technology which makes it a big hit in Japan.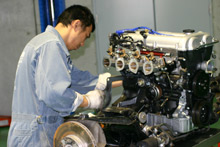 Characteristic
Custom order forged piston (4032 systems) of MAHLE)
Standard Piston diameter: 82.950~82.966 mm
Piston volume is 9 cc and 10.8 compression is achieved.
lt corresponds to NB8 (Sr-2) a subsequent VVT cam .
It is possible to use the piston pin simultaneously with a pure Conrod of 20 mm.
Piston performance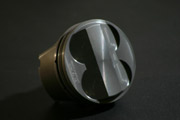 The Piston is manufactured originally by Maruha and is processed with the use of ample amount of silicon and the forged aluminum material of 4032 systems .
Black coating is done by force fit technology and reduces the frictional sound considerably.
Reduction in weight is also achieved. Maruha's piston is highly efficient and dynamic and revolves lightly and freely.
Piston clearance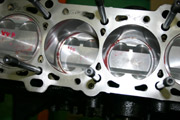 The piston diameter is being set up at a standard bore of 82.950~82.965 mm.
In the case of using used block the roughness of the cylinder interior wall is modified by bonning processing.
Standard clearance of 5/100~7 / 100 mm is achieved. The limit value is 10/100 mm.
Block bore processing is unnecessary
Block bore processing is unnecessary for the diameter of 83mm.
The general cost of bore expansion processing is about 40,000 yen.

There is a huge saving with its omission. Also, correspondence is possible even just as pure ECU, if it is 1800 cc of displacement volume. (We would appreciate the confirmation of A/F with an individual engine without fail. )
However yet, we recommend the review of ECU, in case the tuning element such as the cam shaft is exchanged.
Compression ratio
Combustion chamber capacity 51 cc
Head gasket 84mmx0.8 mm
Piston crown 9 c
Bore 83 mm x stroke 85 mm
With the above conditions the compression ratio of 10.8 is achieved.
Cooling jet escape processing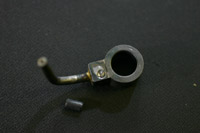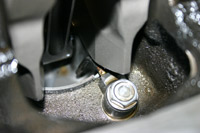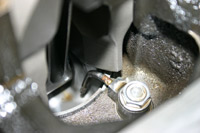 The above price is a unit price. One unit comprises of 4 pieces.
Please purchase the Maruha processing completion jet kit for safety.
Processing completion jet cuts the positioning protrusion of the established part and positions the knock pin from breaking out.
We recommend the jet kit as much as possible, because the bending of the nozzle top causes trouble such as nozzle crack and slipping.
Conrod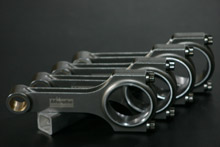 Concomitant usage with a pure Connecting rod is possible.
We recommend Maruha power rod that demonstrates a big effect in both reduction of weight and stiffness.
NEW ENGINE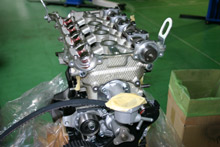 We get many engine o/h requests.
In case the original engine has traveled long distance or is in a fairly bad condition, it is possible to manufacture a new engine base with Maruha.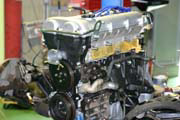 We incorporated the 83 mm Mahle piston to the new BP engine and achieved a target engine supply of 1028R .
Furthermore, we updated the system with F-cam etc.
Please feel free to contact us for futher information.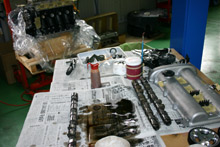 Engine mail order is also possible.
Engine installation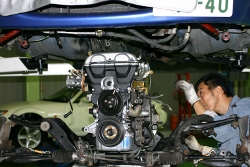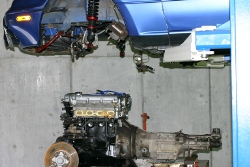 Engine detachment and attachment in Maruha is carried out in the ASSY condition of the engine.
It is exactly a reverse procedure with the production line of the automobile maker. The work efficiency is good and safe.
Removal of the bonnet is not required and the installation can be done without damaging the engine and the body.
If you have any questions, please mail us at info@maruhamotors.co.jp
[home]
Maruha Motors Co., Ltd.
Ushizuma 2095-6, Aoi-Ward
421- 2106 Shizuoka city, Shizuoka prefecture
Japan
TEL: 0081-54-294-0076
FAX: 0081-54-294-1312
E-mail: info@maruhamotors.co.jp