Maruha Power Clutch System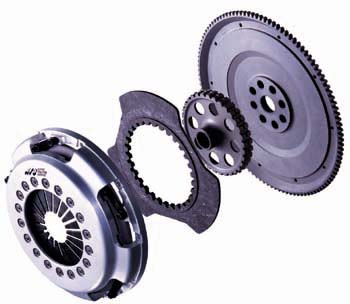 It is well known that ATS Inc. takes the initiative in carbon parts for motorsports in the world.
This time, both the carbon clutch system and metal clutch system for Miata became available through the cooperation of Maruha and ATS.
This new line-up for Miata clutch is an epoch-making invention.
The general clutch tuning is genuine cover and disc with the light-weight flywheel. This situation is the same in Japan and the USA. But this system's performance is not enough for racers who want to achieve more aggressive attack.
Maruha's Power Clutch System's performance is very unique. It is very easy to operate for everybody, with very sharp shift change and with long life.
All factors are in your hands to enjoy these systems.
The price is also very reasonable.
Compatible with: All Miata models
Maruha Power Clutch System / Carbon disc :
Maruha Power Clutch System / Metallic disc :
Options:
Center pilot bearing / Genuine parts
Release bearing / Genuine parts
*These two items don't belong to the kit, please buy them separately.
Flywheel / 3.7kg :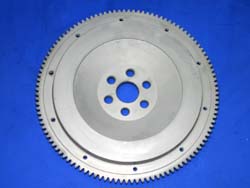 The machining process starts from the outer side.
Our unique machining method becomes possible by the special machine for flywheels.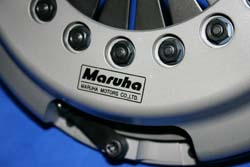 As for the strength, the material is carbon steel with thermal heat disposal at the final process, and can keep the strength.
Because of the light weight there are no holes to reduce the weight !!
This is one of the features of Maruha's Flywheel.
A pilot bearing is inserted into the center of the flywheel.
This pilot bearing sometimes comes out from the flywheel as a result of strong vibration in races.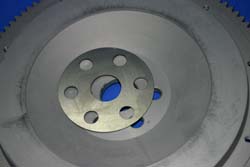 Maruha's clutch system can prevent this phenomenon by a steel plate, and make the pilot stable to keep the main shaft of the transmission.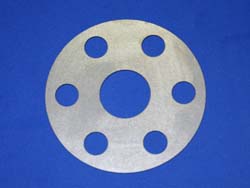 Metallic clutch :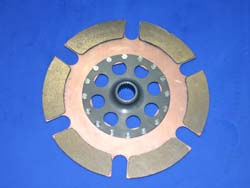 OD 9" ( 230mm ), this is the largest size on the Miata market
If you compare Maruha's disc with other companies' products, you will find how much heavier their discs are. And you will see how light Maruha's disc is.
Maruha's disc's weight is only 800g, this lightweight can help synchronizers bring the accurate shift changing at high rpm.
It provides high performance for torque transmitting, endurance and easier operation than in the case of the usual metallic discs.

Carbon clutch :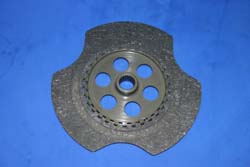 OD 9" ( 230mm ), this is the largest size on the Miata market.
The melting point of carbon is higher than that of other material for clutch. The difference is over 1,000 centigrades.
Carbon has very tough endurance against heat.
The specific gravity is 1.7, the weight is about half of the titanium's weight.
The thermal expansion is 1/10 of steel, this is a suitable material for clutch.
Maruha's Power Clutch has a special carbon disc. This disc has many carbon fibers flowing into any directions of 3D.
Usually a carbon fiber is cross like beautiful cloth, but our disc doesn't have a crossed appearance.
This proves that Maruha's carbon disc is extremely strong.
Three feathers reduce the weight. The carbon material has such a big capacity to transmit torque that only three feathers are enough.
The effect of the lightweight is very big, a 500g super light disc is very tender for synchronizers and vibrations in a transmission,
and can contribute to quicker shifts.
Carbon has good endurance, you can use it for a long time.
This is a feature of carbon clutch system.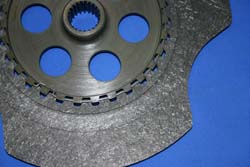 Carbon seldom becomes deformed and can keep a flat form.
Carbon discs also have a performance of wide range at clutch meet. Everybody can control it easily.
The most distinguished point is its price. Yes. Carbon material used to be very expensive.
But now we can supply our carbon clutch system with a reasonable price for Miata owners.
We are proud of this price that makes it possible for anyone to buy it.


Clutch cover: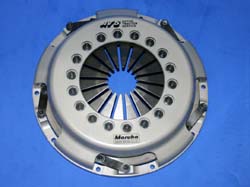 To realize a pressure cover with lightweight and compact size, we adapt a forged aluminum and integrated body with cover and pressure plate.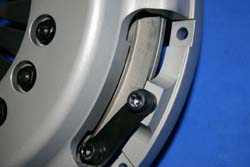 These parts are fixed by bolts, it is possible to replace each part and modify the pressure power by exchanging the spring plates.
Maruha Power Clutch system is set as 1,000kg a pressure cover.
Please do not hesitate about it, in our system 1,000kg is not heavy, but very light like a stock clutch.
This high performance is the result of our crafts and skill.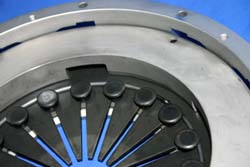 Compatible Metallic and Carbon disc:
Because both systems include a common flywheel and pressure cover, it is possible to change the disc by exchanging some parts.

After-service:
We are stocking all parts for replacement.



[home]
Maruha Motors Co., Ltd.
Ushizuma 2095-6, Aoi-Ward
421- 2106 Shizuoka city, Shizuoka prefecture
Japan
TEL: 0081-54-294-0076
FAX: 0081-54-294-1312
E-mail: info@maruhamotors.co.jp