Upgrade Your Car in Performance with Cost-Saving Fuel Economy Maruha Four Injection Units
Four injection units were not very popular on the market that used to be ruled by turbo and super chargers.
However, four injection units are a boom these days among a great number of users.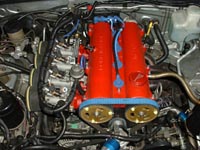 Even though the injection is becoming more popular, not too many people seem to understand its features and the way it works.
As a result, a lot of users e-mail us asking questions about the injection units.
We'd like to talk about the features and functions of four injection units.
The role of four injection units
The relationship between a high camshaft and four injection units
Are four injection units good for street drive?
Conditions of four injection units for street drive
ECUs and their strong & weak points
Tips on how to select IRTB
Electrical wiring
Maintenance of ECU programs
Optional product: Controlled combustion sensor and vacuum sensor (PIM)
Prices and contents of Maruha Four Injection Units
Can four injection units be installed by weekend carpenters?
Optional product: Funnel Socks Air Cleaner
1.The role of four injection units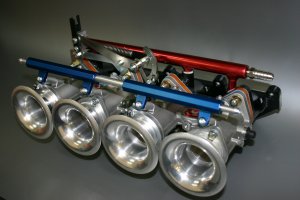 The engine and the four injection units have a close connection.
If you tune NA engines, how will you power up your car?
When it comes to increasing car power, you will hit on the idea of producing a strong spark, highly compressing an engine and sending more air into the engine.
Actually, we can increase the compression ratio by grinding the engine head, blowing the bore up or enlarging the piston crown area.
However, even if you improve your enginefs performance, it's not worth doing this in the case it cannot let enough air into the engine.
That is, enhancing the engine performance means that more fresh air can be sent into the engine.
Four injection units play a role of sending more air into it than normal throttle bodies do.

2.The relationship between a high camshaft and four injection units
It is useful to install a high camshaft to power up your car.
Engine performance is improved by increasing the camshaft duration and the cam lift.
But unfortunately, whatever high performance camshafts you have, they never offer you the maximum engine performance.
For instance, a normal B6 engine with a high camshaft, that's duration is an angle of 288 degrees, cannot work well in the mid to high RPM ranges, even if the engine reaches the highest RPM range at a stroke.
The normal surge tank causes this trouble.
It is unable to send enough air into the engine and it is hard to let your car maximize its performance because of a total lack of air that is necessary in the high RPM ranges.
However, the air shortage is totally solved when you replace it with four injection units.
These contexts tell you that ideal engine performance is available, only if a high camshaft and quad injections are used together.

3.Are four injection units good for street drive?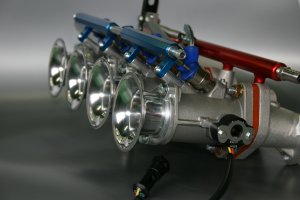 We do not doubt that four injection units are an essential mean to power up our cars.
But if you use them on the street, you will face problems such as an unstable idling condition and the car becoming a gas guzzler.
According to the rumor all of the four injection units can allow cool street drive and at the same time they run speedily at the high RPM ranges because the units are a tool for increasing your carfs power.
However, unless it gains stable idling and less fuel costs, you can never get four injection units that are suitable for street drive.
4. Conditions of four injection units for street drive
A. Idle control
In order to make four injection units more useful in street drive, first, we have to control idle speed.
Idling should remain stable under variable conditions such as heat at engine start up, A/C idle up and some effects due to current consumer electric devices.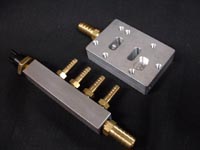 A carburetor cannot match exactly these conditions because the fine adjustment of the flap is the only one thing that controls the idling.
The idling adjustment screw moves the flap up subtly to set the idling. However, there are several changes such as water temperature and loads of A/C.
Except for the control by the ECU, the air travels through an air bypass valve under heavy loads or we can use a diaphragm that forces the throttle to open slightly.
But these techniques are cheap skills in order to reach rough expected idling speed.
That is the reason why they are inferior to the control by the ECU.
The control by the ECU means that it moves the air bypass valve with a solenoid valve to approach the expected idling speed that has been already programmed. This control system is adopted with genuine MIATA engines to improve expected idling by controlling idle speed properly under every situation.
There is a limited number of four injection units that control idle speed by solenoid valves.
The most of them set their idling by adjusting flaps subtly and also can reduce loads by changing ignition timing.
Some products tend to cause the engine to stop or cause high idling because they are totally unable to control their idle conditions.
The existence of these useless injections makes many users assume that four injection units are hard to handle.
B. Fuel economy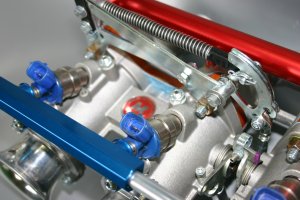 It is very good to upgrade your car with more comfort by installing four injection units.
Actually, four injection units tend to increase your carfs power, while they consume more gas than a normal injection system.
This problem annoyed us until we have developed our product.
It would be easy to think that less emission from injections can achieve fuel efficiency.
However, it causes a lack of the carfs power, a heavy pickup in shifting, unstable idling and a stall.
Constant acceleration resulting from cutting gas consumption robs you of enjoyable cool drive brought by four injection units.
Maruha can solve these problems by controlling the amount of the emission under the ECU program.
Our injection units can bring you a more powerful and economical drive.
It means that you do not need to worry about the fuel cost in sport drive.
5.ECUs and their strong & weak points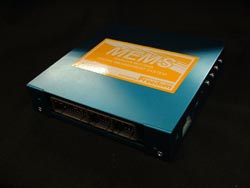 ECU, including a sub computer and a full computer, plays a very important role in four injection units.
A. Sub computer
Sub computers have an advantage in their low prices and easy usage.
Low price-oriented customers will accept them as tuning items.
However, they also have a disadvantage.
It is impossible to control injection systems precisely, unlike full computers do because they have different specifications.
Sub computers send dummy signals to genuine ECUs, while full computers make engines run following the programmed data.
That is, sub computers force the ECUs to be controlled broadly by altering data with revolution ranges that are roughly allotted.
These computers cannot provide fine control.
When you input data into full computers, personal computers or command interpreters are essential, while sub computers' settings can be changed only by turning the dials.
They control four injection units at a rough level, but it is not enough to control quad injections for street drive.
B.Full computer
The Freedom ECU, which is one type of full computers, deals with specific engines and also has couplers and functions that correspond to the engines.
In these points, the Freedom ECU is easier to handle than the other all-purpose products.
Programming is the biggest key to powering up cars.
Generally, people say that full computers are pricey, even though the Freedom ECU has a reasonable price.
That is the reason why the latter is accepted on the market.
However, it is not a state-of-the-art computer as it does not deal with 3D programming.
In addition to this, it has particular features corresponding to specific engines and it is far from an all-purpose ECU to apply to other cars.
Users would welcome a full computer that gives them space to program by themselves, but some manufacturers never allow to program their ECU unless people pay high contract payments.
6.Tips on how to select IRTB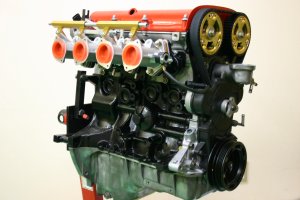 In order to get enough power with four injection units, it is important to select an individual running throttle body (IRTB) cleverly.
You would not have any problem when you choose an IRTB that's diameter is suitable for your carfs displacement and tuning contents, but on the other hand we have a problem.
IRTBs thats' diameters are 43.0mm or 45.0mm are generally used, while they are slightly large in some cases.
Maruha recommends you a 40.0mm IRTB that can make enough power in B6 and BP series.
The diameter is also suitable for stable idling and a drive in the low RPM ranges.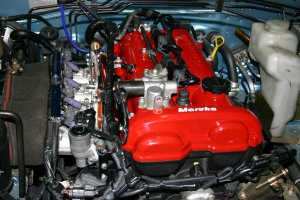 Our IRTB line includes 40.0mm, 42.0mm, 45.0mm, 48.0mm and 50.0mm of diameters to match your needs.
First of all you have to keep balances among flaps when you install IRTBs in your car.
As Maruhafs IRTBs are twin choke type, you need to have 2 IRTBs. All you do is adjust the linkage between them.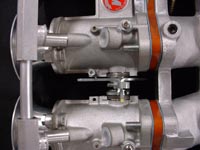 On the other hand, IRTBs made by other manufacturers have to be adjusted one by one because they are single choke type.
It is hard to keep their balances as they are linked with pillow rods.
In case of being linked with throttle pulleys, it is more difficult to become balanced because of their complicated specifications.
7.Electrical wiring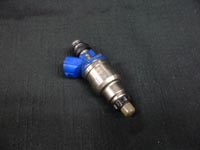 Genuine injectors and solenoid valves make wiring easy.
You have to wire electrical parts such as the injector, the throttle position sensor (TPS), the controlled combustion system and the vacuum sensor (PIM) because Maruhafs IRTB is totally controlled by the Freedom ECU.
Whenever you use electrical parts excluding the genuine ones, electrical wiring should be done.
Patient and careful work will bring less problems, but actually many people tend to make mistakes with the connections.
For example, electro-tap connectors cause contact failure.
Bad connections could damage the ECU and you may waste time to locate the sources of trouble.
Wiring should have a simple specification.
Our products are suitable for couplers by means of the Freedom ECU for the MIATA only.
You do not have to wire up. The solenoid valve for idle control and the injector are genuine ones.
The throttle position sensor and the other sensors have wiring tags in order to wire up easily.

Simple wiring means easy replacement.
In case of parting with your own car, it is not difficult to restore its genuine state by detaching the IRTBs.
SIMPLE IS BEST.
8.Maintenance of ECU programs
You know that ECU programs are the keys to success in driving four injection units effectively. (In detail, see g 5. ECUs and their strong & weak points")
In order to maintain the quality of the ECU system, we allot serial numbers to all of our ECUs.
The numbers allow us to find information related with each of the ECUs: sold to whom, date of purchase, which specification we sold to the customer.
The reason to save the information about our product is that we need to protect the data contained in our ECU. Because it is programmed on the basis of our four injection units, copied data will be unsuitable for other quad systems.
If you give your ECU to someone else, we can match the next userfs needs following the information.
Maruhafs ECU is designed for users who love programming by themselves.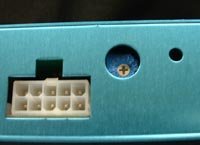 It has 4 channels and 3 of them are prepared as gPower Modeh, gEconomy Modeh and gCircuit Modeh, which are initially programmed before we release the Freedom ECU to the market.
Power Mode (DCS: D Control System/ for increasing car power)
Economy Mode (DCS/ for saving fuel economy)
Circuit Mode (Throttle Position Control/ for improving pickup)
vacant channel (for users who want to program by themselves)
D Control System (DCS), that's computing is based on a vacuum sensor, is used among a large number of economy cars.
The ECU calculates how much air the vacuum sensor includes.
There are several measurement methods for air inflow.
For instance, DCS computes the amount of air under manifold pressure.
DCS has an advantage of stable idling, even though its response is a little slow in severe conditions such as races because the manifold pressure is changeable whenever throttles are open.
Throttle position control is a good solution to this problem.
It can respond immediately by adjusting the amount of air according to the opening angles of the throttle valves.
However, you have to bear in mind that the throttle position control also has a disadvantage of idling control.
We recommend using Circuit Mode under race situations.
The vacant channel is for customers who plan to program alone.
Programming on the basis of Maruhafs initial programs would prevent your engine blowing caused by programming failures.
You can arrange these 4 channels by adjusting the dials on the ECU with small screwdrivers.
9.Optional product: Controlled combustion sensor and vacuum sensor (PIM)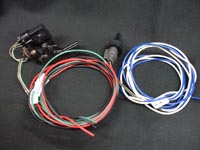 If you need sensors when you buy Maruhafs four injection units, we can offer you them at about 1/20 price of the products that are spread over the market.
The reason we sell them at very low prices is that they are widely-used second-hand sensors that we have stocked.
For your information, it costs around $170 when you buy a new product.
It is natural to be worried wether these used sensors fulfill safety standards and wether they work properly.
You don't have to worry. We examine their performances carefully before they are released.
Furthermore, we also sell couplers that are suitable for the sensors.
Connect tags are attached to them in order to wire up smoothly.
Our controlled combustion sensor and vacuum sensor are really good deals.
You will be satisfied with their low prices and high quality.
10.Prices and contents of Maruha Four Injection Units
Maruha Four Injection Units Price Table
Product
Price
System kit for NA6CE
System kit for NA8C (before M/C)
System kit for NA8C (after M/C)
WindowsR software cable
Options:
Controlled combustion sensor (USED)
Vacuum sensor (PIM) (USED) @
Fuel Socks Air
Cleaner Set (4 cleaners contained)
Contents of Maruha Four Injection Units
| | |
| --- | --- |
| intake manifold | fuel regulator |
| fuel delivery pipe | throttle linkage set |
| vacuum block | the Freedom ECU |
| O-ring for the genuine | injectors 1 set of hoses |
| throttle body (IRTB) | 1 set of stays |
| throttle sensor | 1 set of bolts AND nuts |
| idle control block | hole plug for the genuine |
| air funnel | injector(for B6 engine model only) |
| manifold insulator | |
The price and content tables show you that our four injection units include the essential parts and that Maruha provides its products with other necessary options.
When you need to know the full cost roughly, you only have to check the price table or contact us.
The table is clear accounting.
We avoid vague pricing methods such as camouflaging products as inexpensive ones by showing prices of main parts without notifying the other parts prices at all.
We are convinced that our products and services will fulfill your needs.
The content table will help you understand how our four injection units work.
11.Can four injection units be installed by weekend carpenters?
Some of our customers try to fix their four injection units by themselves to save the expenses.
They often ask usgCan I install my injections without your help?h Whenever we hear the words, our hearts begin to beat too fast as there is a chance of serious accidents or bad performances.
Although an instruction manual is available, our four injection units are designed and manufactured on the premises that skilled mechanics install our product at well-equipped workshops.
Only their skills and experiences can adjust accurately the engine condition and the balance of the IRTBs.
We highly recommend you to install Maruha Four Injection Units at pro shops.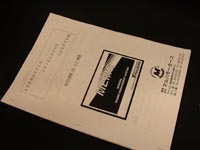 12.Optional product: Funnel Socks Air Cleaner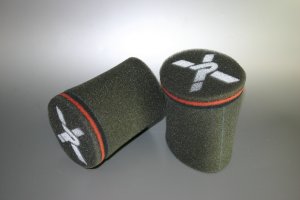 An uncovered funnel has good and bad points.
It really looks hip, on the other hand, it is dangerous as dust and dirt easily get into the funnel.
In order to prevent the damage, we recommend you to cover your funnels with Funnel Socks Air Cleaners.
The product is extremely handy. All you have to do is put it over the funnel.
It is free from air resistance and almost completely prevents dust & dirt from entering.
We machine funnel diameters smaller for free to make more clearances among the funnels for everyone who purchases both Funnel Socks Air Cleaner Set and Maruha Four Injection Units.
[Home]
Maruha Motors Co., Ltd.
Ushizuma 2095-6, Aoi-Ward
421- 2106 Shizuoka city, Shizuoka prefecture
Japan
TEL: 0081-54-294-0076
FAX: 0081-54-294-1312
E-mail: info@maruhamotors.co.jp