Genuine parts
Except the original parts we store the products of other shops and makers too. Feel free to inquire about the parts you need.

The reason for having in stock genuine parts is that we wanted to facilitate our work. There might be cases when some unexpected trouble occurs and we need parts that we didn't expect we would need. In these cases if we don't have parts in stock, the work is interrupted.

With the years we became able to line up Maruha's original parts (engine parts, clutch parts, transmission, differential, suspension, cooling, brake etc.).
This kind of wide range of Miata/Mx-5 original parts is available only at Maruha.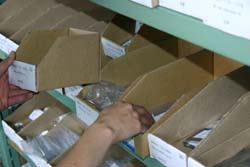 We manage the genuine parts extremely carefully. All the parts we store have an index, genuine part number, Maruha ID number, identifier tag and price.

Every day before putting the newly arrived parts to stock, we check them and paste the ID tag one by one. In this way it is easier for both the seller and the customer.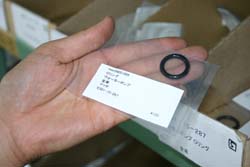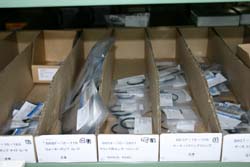 For this reason our work is smoother, the line-up of the original parts and our business could expand and our stock has become wide.

Maruha Motors Co., Ltd.
Ushizuma 2095-6, Aoi-Ward
421- 2106 Shizuoka city, Shizuoka prefecture
Japan
TEL: 0081-54-294-0076
FAX: 0081-54-294-1312
E-mail: info@maruhamotors.co.jp

[home]