Long vacuum hose (for servo assisted brake)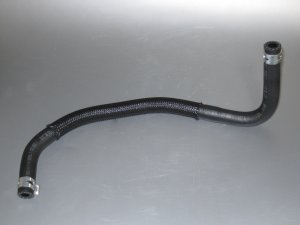 We use the negative pressure of the intake manifold (vacuum)to the brake pedal force. We have to note, that there is a hose in between the intake manifold and servo. This is called a vacuum hose.
Its shape and length varies from model to model (NA6CE, NA8C, NB early model, NB later model). However, lately it's almost out of stock and becoming a part that's production is going to be stopped.
Especially if we tune the 4-throttle injection system, the carburetor, the swap etc., it might happen, that the hose is not long enough.
There are other frequent cases when it is dangerous to reuse the deteriorated hose.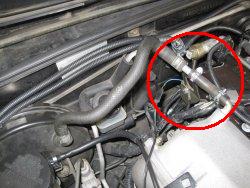 In other cases, like on the picture, the hose is being prolonged by a pipe.
Maruha has produced a new long vacuum hose for the brake servo.
On the picture you can see the NA6 engine room with an installed NB8 (BP-VE).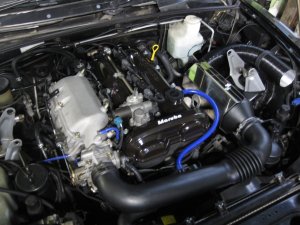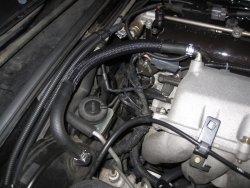 The length of the genuine vacuum hose for NA6 is not enough, that's why this time we tried Maruha's original long hose.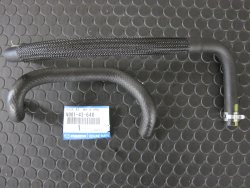 Above: Maruha's long vacuum hose
Below: NA6 genuine vacuum hose
Characteristics
1. It is a long hose, so you can adjust both ends to the different engine types by cutting.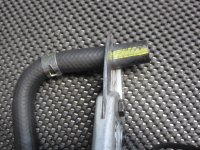 2. There are not too many curves in the hose and for this reason it has a good versatility and it is easy to work with it.
Important
Note that in the middle of the vacuum hose there is a one-way valve, which determines the direction the hose should be set up.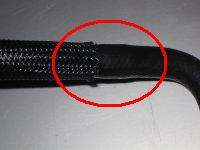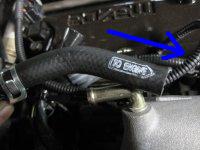 The one-way valve can be found at the red-circled part. A wrong setup can lead to big accidents, that's why it is important to read the instructions properly.
[home]
Maruha Motors Co., Ltd.
Ushizuma 2095-6, Aoi-Ward
421- 2106 Shizuoka city, Shizuoka prefecture
Japan
TEL: 0081-54-294-0076
FAX: 0081-54-294-1312
E-mail: info@maruhamotors.co.jp