NA8 BP-VE swap + 4-throttle injection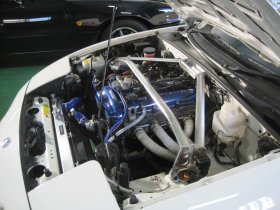 The BP-VE engine is a model with VVT function produced after the NB8 later models.
It is set up with high compression and variable valve timing.
It can be installed quickly and controlled by Freedom control.
Thatfs why it is more powerful than the genuine one.

This engine has become the dominant stream and it is a big brake for Maruha.

The body of NA8 is light.
In the case of the vehicle in the video, both A/C and P/S have been removed.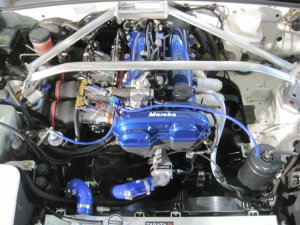 It is a real racer setup for circuits.

In the BP-VE we installed Maruhafs cam and Mahlefs piston and turned it into a 4-throttle injection system.
As you could see in the video, we equipped it with venturi intake system.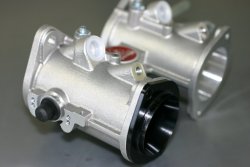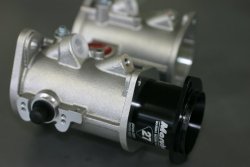 The venturi was developed for the 45mm throttle body.
Not only the torque but also the maximum power becomes higher.

At the exhaust system we set up Maruhafs VP-header.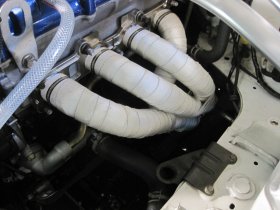 Even though as a measure against overheating we covered it with bandage, its function is still outstanding.
This VP-header is set up with a patent pending venturi.

In other words, in this car venturi is being used on the intake and exhaust side too.
In reality, the control of this system is very complicated, but in this lies Maruhafs power.

We stabilized the oil temperature using Maruha's water cooled oil cooler.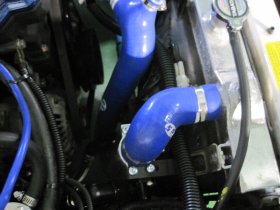 Before delivering the car, we properly explain everything to its user.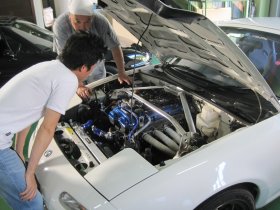 Maruha Motors Co., Ltd.
Ushizuma 2095-6, Aoi-Ward
421- 2106 Shizuoka city, Shizuoka prefecture
Japan
TEL: 0081-54-294-0076
FAX: 0081-54-294-1312
E-mail: info@maruhamotors.co.jp

[home]