SIMPSON seatbelt platinum 6PT for Mazda Miata
Simpson's lineup has welcomed a new member, the silver (platinum) seatbelt.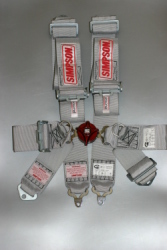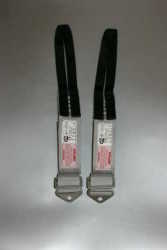 The center buckle is a special design with rotary type.
A 6PT belt belongs to the set.
The SIMPSON belt's characteristics
The shoulder belt
In Miata/MX-5 there is no space for the shoulder belt's anchor.
When folding the hood the anchor's strength cannot be secured. Furthermore, when folding the hood, the anchor and the belt become a hindrance. That's why we recommend to tie it around the brace bar.
In this case there is no need to worry about the seat's shape, the belt can be pulled down from an optimal point.
SIMPSON's shoulder belt can be easily adjusted at two places.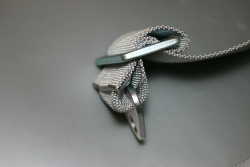 On the picture the plate is being tied.
This plate can be tied to the bar.
Even in the case of other companies' seatbelts there are some with adjustment at two places but there is a limitation of length adjustment and for this reason they are not good for Miata/MX-5 because in the case of Miatas the distance between the seat and the brace bar is short. Furthermore, the types with possible adjustment only at one place are difficult to set up in Miata/MX-5.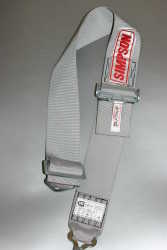 The characteristics of the platinum belt
The center buckle is a rotary type and it has a special design.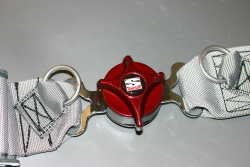 The shoulder belt's elasticity is the same as in the standard Simpson belt's case and it is very compatible with Miata/MX-5.
The waist belt's length adjustment is carried out on the right by the adjustment on the anchor side and on the left by the adjustment on the center buckle side.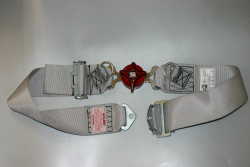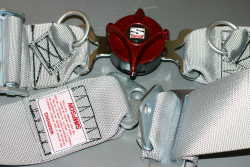 The special platinum collar's (silver) width is 75mm (3in).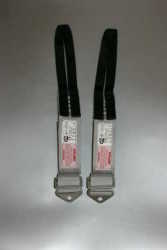 [home]
Maruha Motors Co., Ltd.
Ushizuma 2095-6, Aoi-Ward
421- 2106 Shizuoka city, Shizuoka prefecture
Japan
TEL: 0081-54-294-0076
FAX: 0081-54-294-1312
E-mail: info@maruhamotors.co.jp