Maruha 4-pot caliper for Mazda Miata/MX-5 / BLUE version
We added a new blue 4-pot caliper to our previous lineup.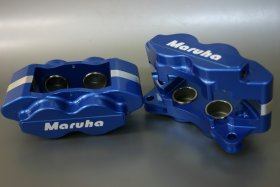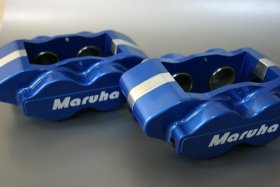 Maruha 4-pot caliper (BLUE)
The 4-pot caliper set's price changes according to the types of pads and the rotor (with/without).

The brake caliper has to operate under difficult conditions, like heat, dirt, brake fluid etc. For this reason the caliper's collar ring has to undergo special surface treatment and by quenching special paint is being applied to it, improving its durability.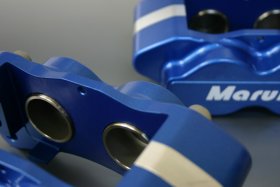 Important
Note that the brake fluid might erode the paint. For keeping it in good condition, wash it with water and then clean with a cloth if it gets dirty from the brake oil.

[home]
Maruha Motors Co., Ltd.
Ushizuma 2095-6, Aoi-Ward
421- 2106 Shizuoka city, Shizuoka prefecture
Japan
TEL: 0081-54-294-0076
FAX: 0081-54-294-1312
E-mail: info@maruhamotors.co.jp