O/H of Mazda Speed LSD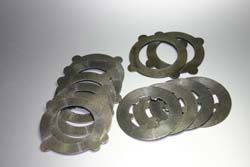 These days, the LSD that's the most popular is the Mazda speed LSD. However the casing is a casting product for mass production and sometimes when one wants to change the initial, the case can be easily broken.
To the change of the initial we can use a disc with different thickness or add a shim. However, Mazda doesn't provide any of these choices.
At Maruha with the general O/H kit for Mazda LSD, we have in stock the necessary additional shim too.
We can provide it for NA6CE, NA8C/NB (all types). Its thickness is 0.1mm.
The recommended number of shims is 1. In the case of using 2, which is the maximum (+0.2mm) there is a risk that the stress on the casing would grow.
Mazda S LDS O/H kit
[home]
Maruha Motors Co., Ltd.
Ushizuma 2095-6, Aoi-Ward
421- 2106 Shizuoka city, Shizuoka prefecture
Japan
TEL: 0081-54-294-0076
FAX: 0081-54-294-1312
E-mail: info@maruhamotors.co.jp