Mazda Miata MX-5 Oil sandwich block
Simultaneously with the water cooled oil cooler we started to sell the oil block too (for removing the hose) as separate item.
During the block's production we were keeping in mind weight reduction and made it by aluminum processing and it became a very good hard alumite quality material.
It can be used for B6 and BP. However, in the case of B6 because of the problem with the space on the block's side we have to relocate the genuine oil switch etc.
Please note that it is a special block for removing a hose that uses AN10 fitting and for this reason it is not suitable for users who want to set up a meter by other company.
Characteristics
Can be used for both Mazda Miata B6 and BP (Note that in the case of B6 it is necessary to deal with the problem of the space)
Aluminum processing ・hard alumite processing
Cartridge: for Mazda
Fitting size AN10
1/8PT adapter×in 2 places (oil temperature & oil pressure etc.)
We recommend the processing of the stay for the genuine intake manifold.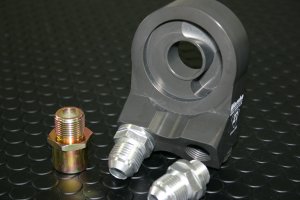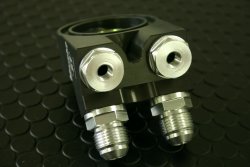 The case of B6
The engine block's rib is around, that's why there is space limitation.
It is easy to remove the genuine oil pressure switch or to relocate it and to preserve space.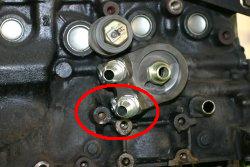 1. The rib is in the way and there is no space to set up the sensor.
2. There is no space to get to the alternator's side.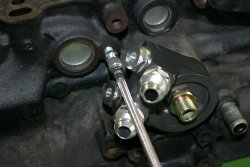 3. The genuine oil pressure switch is in the way.
If we relocate the pressure switch, we can get space.
It is possible to purchase the special 1/8PT adapter and the line as a set.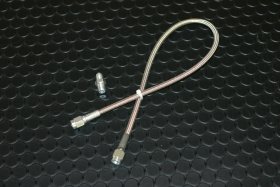 [home]
Maruha Motors Co., Ltd.
Ushizuma 2095-6, Aoi-Ward
421- 2106 Shizuoka city, Shizuoka prefecture
Japan
TEL: 0081-54-294-0076
FAX: 0081-54-294-1312
E-mail: info@maruhamotors.co.jp