Brake pad and rotor set for Mazda Miata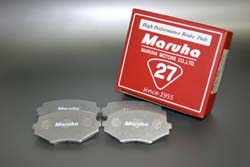 There are 4 types of Maruha's original brake pads: SS-27, SR-27, CA-27, CC-27.
All of them are heavy-duty pads with high efficiency, less dust and noise etc.
As for the rotor, except Mazda's genuine one we keep in stock 3 types of Maruha's original rotors too.
The genuine rotor's durability is very good and easy to obtain.
Maruha's original rotor's efficiency and price are very good.
The rotor and the pad both are products that wear out with time, though we tend to ignore the rotor's abrasion. In some cases the rotor's damage might lead to a fast pad abrasion.
Troubles caused by the rotor:
Even though the pad has been exchanged there is still noise.
Because of the rotor's damage the pad's abrasion accelerates.
The rotor has never been exchanged.
When you step on the pedal there is some resistance.
If you notice any of these signs it is recommended to exchange the rotor at the time of the pad's exchange.
Feel free to contact us with any questions.
[home]
Maruha Motors Co., Ltd.
Ushizuma 2095-6, Aoi-Ward
421- 2106 Shizuoka city, Shizuoka prefecture
Japan
TEL: 0081-54-294-0076
FAX: 0081-54-294-1312
E-mail: info@maruhamotors.co.jp