Maruha Racing Camshaft Mazda MX-5 Miata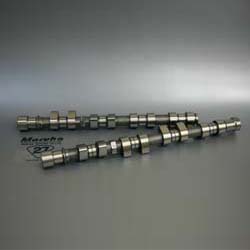 Supported MIATA Models: MIATA NA8C, NB8C before M/C(w/o VVT)
(Specification)
| | | | | | |
| --- | --- | --- | --- | --- | --- |
| Product Type | Side | Duration | Total Lift | Base Circle Diameter | Shim Available |
| Type A | IN&EX | 264degree | 10.0 mm | 33.0mm | Shim Under Bucket (SUB) |
| Type B | IN&EX | 272degree | 10.0 mm | 33.0mm | Shim Under Bucket (SUB) |
| Type C | IN&EX | 288degree | 10.0 mm | 33.0mm | Shim Under Bucket (SUB) |
Maruha Racing Camshaft, which features its 10.0 mm lift height and the 3 type products with the wide rotating angles, promises to supply your MIATA with more torque and power in race driving.

The product line is available only for NA8C and NB8C before M/C models.
Each of our camshafts requires different accessories for being able to fix them to the cars.
PLEASE READ BELOW CAREFULLY.
Installation into MIATA NA8C
Maruha Clearance Collar SUB or Maruha Solid Lifter Kit (each sold separately) must be used to install our racing camshaft into NA8C.
Maruha Clearance Collar, which works as a shim under bucket (SUB), is the best choice to save money for upgrading your car.
The product replaces the MIATA brand HLA plunger (Picture 1).
There are 40 sizes available to choose from, from 11.0 mm to 13.0 mm length by every 0.05 mm(total 40sizes) .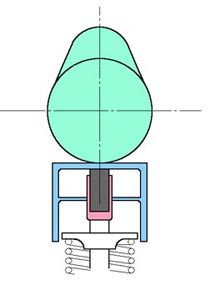 (Picture 1) Maruha Clearance Collar SUB (in gray) is fixed after removing the center plunger from the genuine HLA body.

Furthermore, in case you hope to reduce the weight of the valve system, we recommend Maruha Solid Valve Lifter Kit (sold separately). The valve lifter can be fixed on the valve after installing the SUB (included accessory) on the valve top (Picture 2).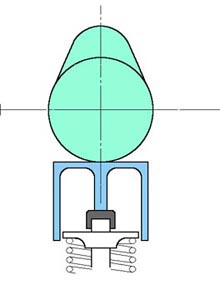 (Picture 2) Maruha Solid Valve Lifter (in blue) is placed onto the kit SUB (in gray).
There is a chance of interference when installing Maruha Racing Camshaft. The genuine camshaft for NA8C has the rotating diameters of 52.16 mm (IN) and 53.22 mm (EX), while Maruha's camshaft diameters are 53.00 mm (IN & EX). Therefore, our intake camshaft has a 0.84 mm larger rotating than the MIATA brand's. It can interfere with the cylinder head if you find very few gaps between the camshaft and the edge of the lifter hole. In order to prevent damages, remove the cam holder and check the clearances between the cam lobes and the cylinder head.
The exhaust camshaft is free from interferences.
Installation into MIATA NB8C before M/C
MIATA's shim over bucket (SOB) is not available for the Maruha Racing Camshaft. Maruha Solid Valve Lifter Kit (sold separately) is required to fix our product.
Maruha's camshaft for NB8C before M/C prevents the possibility of interference as the rotating diameters are smaller than the genuine cam of 53.60 mm (IN) and 53.80 mm (EX).
[NOTE] ・The product should be installed by a professional.

Special solid lifter 16pcs set
Special cap shim
The cap shim size is set from 2.65 to 3.65mm (every 0.05mm).
16pcs are needed for one cam.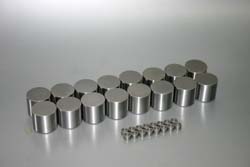 [home]
Maruha Motors Co., Ltd.
Ushizuma 2095-6, Aoi-Ward
421- 2106 Shizuoka city, Shizuoka prefecture
Japan
TEL: 0081-54-294-0076
FAX: 0081-54-294-1312
E-mail: info@maruhamotors.co.jp