Amazing Grip for You - Maruha Rear Conversion Kit with Big Rotor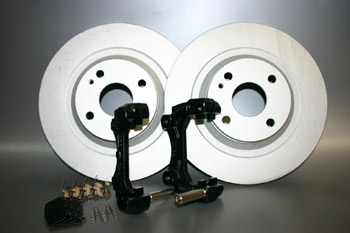 Thousands of our customers use Maruha's 4 pot caliper kit.
We deeply appreciate that great number of users.
We receive customer inquiries about our products every day.
Many customers care about the front and rear balance when attaching the 4 pot caliper kit.
Cars basically stop by the front loads and the rear is the only function to keep the stability of the car.
It is the reason that Maruha had no plans to design and supply a rear caliper kit.
However, a lot of MIATA lovers had told us that they hoped to cling to the road when attacking corners sharply.
Their requests changed our minds.
Maruha Rear Conversion Kit suitable for NA8 type brake pads, the most popular on the market has the 274mm rotor for NB2.
Maruha Rear Conversion Kit
Component Unit
1. 274mm rear rotor 2
2. Caliper support 2
*3. Metal fittings set(including fitting, spring and back plate)
Kit Price (excluding 3.)
Complete Kit Price
* For NA6CE only
This kit is truly user friendly.
When you get the genuine NB2 rotor, in general, you cannot receive the metal fittings without purchasing the NB2 brake pads because they are sold as a set with the pads.
It is needless to say that you are wasting your money.
Maruha Rear Conversion Kit allows you to keep using the NA and NB calipers and the most of the pads you install in your car.
Furthermore, there are convenient brake pads for the customers who feel a need for enjoyable street drives with big rotors.
Maruha's Recommendations (separate sale)
Item
Maruha original SR-27 for NA8C rear Maruha original CA-27 for NA8C rear
We recommend you to use the same items in the front and rear to prevent accidents caused by their uneven thickness.
Please feel free to contact us about other brake pads.
Car owners below should pay attention to several points in using Maruha Rear Conversion Kit.
NA6CE owners-
You need to buy brake pads for NA8C in addition to Maruha Rear Conversion complete kit.
The NA6CE caliper can be used with the product.

-NA8C/NB6C/NB8C owners-
Both of your pads and calipers can be used.
The metal fittings are also suitable and it is not necessary to buy the metal fittings set.
But unfortunately, we often find deteriorated old fittings in many MIATAs.
If you want to avoid using the rusted parts, we recommend you to buy the complete kit.
For the kit price information, see the "Maruha Rear Conversion Kit" table.
CAUTION
Our bolt-on Rear Conversion Kit might interfere with the rotor back plate.
You need to adapt the plate to prevent the interference.
The best solution is that you cut several slits in the back plate and bend them back inside.
You can change to the B2 plate, but the costs will jump up as the hubs have to be taken apart.
Maruha Rear Conversion Kit with great components and
reasonable price offers you an excellent tire grip.
We hope all of MIATA lovers will enjoy our products and services superior to other MIATA tuning shops.

[home]
Maruha Motors Co., Ltd.
Ushizuma 2095-6, Aoi-Ward
421- 2106 Shizuoka city, Shizuoka prefecture
Japan
TEL: 0081-54-294-0076
FAX: 0081-54-294-1312
E-mail: info@maruhamotors.co.jp