Maruha 4 throttle system / Valid ECU ( Freedom)
Recently every automobile maker is worried about gas smog and fuel consumption.
Especially California is famous for very strict smog tests.
It is the same in Japan, too.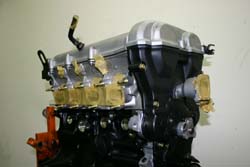 To fulfill these strict conditions, the program of stock ECU has to be lean type.
This means that the maker's program has to be in balance which you can not keep easily if you want modifications.
Adding on supercharger system, completely A/F crumbles to the touch,
it is too hard to control by a sub-ECU iModulatorj unit like dummy signals.
Engine control is not so simple.
To get the correct performance from tuned engines, ECU management has to be applied

We want to emphasize that an ECU like Freedom is very reliable and it is possible to pull through engine performance.
We can say the same thing about camshafts.
Camshafts are important items. We always choose them after a discussion with the clients.
Street or circuit, how about straight distance, how about top speed and rpm,
with carburetors or 4throttle injection system, or stock throttle etc
There are many things we have to confirm for our clients.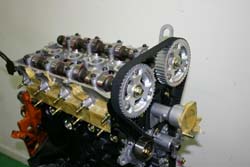 @
And next is the ECU.
If the customer's request is to install camshafts without reviewing the ECU review, we never suggest high-spec camshafts.
It is impossible.
Don't get us wrong.
The ECU review is very important even if it is stock engine.
But we always keep in mind the client's budget.
As for ECU modification, ROM tuning of stocks is the most popular in Japan.
It is the same situation in Maruha, too.
But it is available only for early models and for light-tuned engines.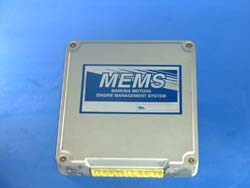 Maruha Rom tuned ECU for NA6CE (90-) 1.6L

Freedom ECU has a very wide range for any modifications, any model of Miata.
Exchanging any spec camshafts, bore up, supercharger, carburetors,
4throttle system, big-throttle of stock body.




NA6CE (90-) 1.6L without Air-flow meter which is
very large resistance of intake air.
Control by Freedom ECU
We have many data and can input our original program into the ECU.

[home]
Maruha Motors Co., Ltd.
Ushizuma 2095-6, Aoi-Ward
421- 2106 Shizuoka city, Shizuoka prefecture
Japan
TEL: 0081-54-294-0076
FAX: 0081-54-294-1312
E-mail: info@maruhamotors.co.jp