Washer for the cam cover
When you open the engine hood, you get a clear view of the cam cover at the front.
Of course you don't want to scratch the cam cover's surface with the fixed bolts.

However, we have to fix it with the bolts.

The solution is Maruha's special washer. If you use it with the bolt, it becomes possible not to scratch the cover's paint. You can protect the paint only with this little care.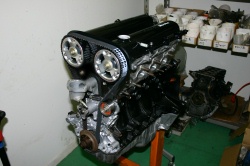 Maruha Motors Co., Ltd.
Ushizuma 2095-6, Aoi-Ward
421- 2106 Shizuoka city, Shizuoka prefecture
Japan
TEL: 0081-54-294-0076
FAX: 0081-54-294-1312
E-mail: info@maruhamotors.co.jp

[home]
Maruha Motors Co., Ltd.
Ushizuma 2095-6, Aoi-Ward
421- 2106 Shizuoka city, Shizuoka prefecture
Japan
TEL: 0081-54-294-0076
FAX: 0081-54-294-1312
E-mail: info@maruhamotors.co.jp