TK brake pad for Mazda Miata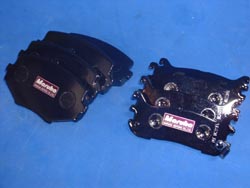 Newly designed Maruha pads.
The TK brake pad's efficiency is the same as the genuine one's.
You can think of the TK pad as of a pad that's also convenient for driving to work.
There are many different brake pads on the market but most of them are designed for sports.
We designed the TK pad for those users who don't need a sports pad and want to keep the expenses low.
Maruha's TK pad is a very efficient pad with a reasonable price.
Feel free to contact us for further information.
[home]
Maruha Motors Co., Ltd.
Ushizuma 2095-6, Aoi-Ward
421- 2106 Shizuoka city, Shizuoka prefecture
Japan
TEL: 0081-54-294-0076
FAX: 0081-54-294-1312
E-mail: info@maruhamotors.co.jp