The hood frame's third pipe
The main point of Maruha's hood is its pretty setup.
Different from the NB it isn't hanging down loosely, the hood is set up perfectly.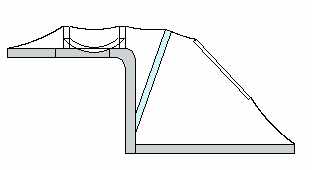 If we install an NA hood into NB, then the third pipe (light blue) becomes free to move.
Its position isn't fixed, and the glass hood hangs down loosely, so it is necessary to adjust its position manually.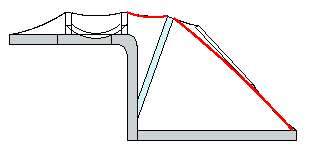 To the third pipe's axis we install a nylon strap.
With this the hood's position becomes fixed at the time of closing.
We lifted the glass part and the operation at the times of opening and closing of the hood became easier.

The most important point is the third pipe (the light blue part on the picture).
We at Maruha install a nylon strap to the third pipe (red line on the picture).
This strap stretches to the last set plate. In other words, it is being pulled from the back.
Furthermore, the second and third pipes are connected by a nylon belt.
This system makes the hood close properly and makes the third pipe stretchable to the front through the second pipe's strap.
With this kind of strap-setting the third pipe's stretching force works and it gets into a fixed position.
If one installs an NB glass hood with a reused NA hood frame, at the opening and closing one has to move the third pipe to the ideal position manually.
This is a trouble caused by the freely moving third pipe.
(The NB hood frame's construction is different and one doesn't experience these kinds of problems.)
The back strap has the function of lowering the tension on the hood and relieving the glass part that hangs down loosely.

As you can see this kind of fully worked-out plan is very troublesome and it affects the price too. However, Maruha tries to satisfy its customers with reasonable prices.

Maruha Motors Co., Ltd.
Ushizuma 2095-6, Aoi-Ward
421- 2106 Shizuoka city, Shizuoka prefecture
Japan
TEL: 0081-54-294-0076
FAX: 0081-54-294-1312
E-mail: info@maruhamotors.co.jp

[home]
Maruha Motors Co., Ltd.
Ushizuma 2095-6, Aoi-Ward
421- 2106 Shizuoka city, Shizuoka prefecture
Japan
TEL: 0081-54-294-0076
FAX: 0081-54-294-1312
E-mail: info@maruhamotors.co.jp