The exchange of the bush
The bush's exchange starts with the removal of the suspension parts like the lower arm, upper arm and knuckle.
The suspension's removal means the removal of the fixed bolts, but it is not as easy as it seems.

First, we have to think of the bolts' bending.
The bolt, that we want to introduce here, is the longest one, used on the rear lower arm's knuckle side (tire side).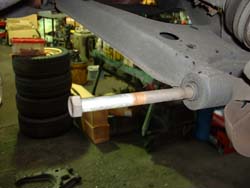 This part is sometimes curved. Why is this?
The most possible reason is that the tire has been hit.
Even if the user doesn't remember it, the tire might have been hit by a stone etc.
The main problem is, that if such a long bolt is bent, then it's not easy to exchange it.
There are cases, when we have to remove the bolt by cutting off pieces of it one after another.
If the bolt is bent, the tire's alignment is destroyed.
This means that when exchanging the bush, we have to check each bolt and confirm if it's bent or not.
There is one more problem.
It is the rear hub spline's rust.
The drive shaft spreads from the differential to the left and right. The shaft's tip has the shape of a furrow spline.
Even the hub's center has the same shape, female type.
The male and female's spline are parallel and they are in a quite fixed position.
However, with time we have to face the problem of sticking because of rust.
If such a long spline gets stuck because of rust, it becomes difficult to remove it.
If the situation becomes like this, we have to use a special tool.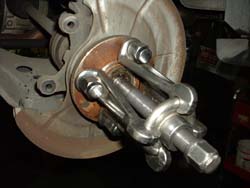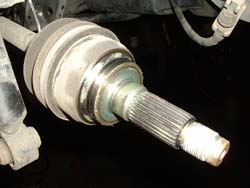 We set up the hub puller and lightly hit it with a hammer and using a penetrant spline remove it slowly.
If we don't have this puller, we cannot remove it.
Many mechanics with experience when removing the spline, might just continue hitting the drive shaft's tip. However, this causes deformation and later the setup of the center nut becomes difficult.
Why is there rust? The reason for this is the penetrance of water. This means that we just have to find a way not to let the water inside. If a center cap was attached just like in the case of the front, that would solve the problem. However, as you know, at the rear, there is only the lock nut.
Which means, that there is no method for a perfect countermeasure.
At Maruha, when exchanging the bush, we use a special molybden spray to all the bolts, nuts and bush collar's inner.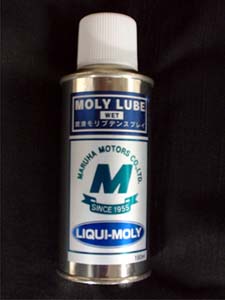 By this spray we can break-in the bolts and prevent galling, rust etc.
Of course, we apply this spray to the spline too, so that if we need to remove the shaft again later, it will be easier.
[home]
Maruha Motors Co., Ltd.
Ushizuma 2095-6, Aoi-Ward
421- 2106 Shizuoka city, Shizuoka prefecture
Japan
TEL: 0081-54-294-0076
FAX: 0081-54-294-1312
E-mail: info@maruhamotors.co.jp