Accessories
Maruha's customers are used to the original Maruha parts designed with lots of thought and knowledge. However, we also like accessories.
One of these accessories is the ROADSTER emblem.
Its dimensions are 140mm×20mm.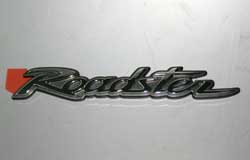 It is an original accessory for NC. There is an adhesive tape on its back what makes it possible to attach the emblem to the car very easily.
Another accessories we have are straps.
The two leather straps come in brown and black. Their length is 80mm.
The mini car straps (red and silver) are 30mm long.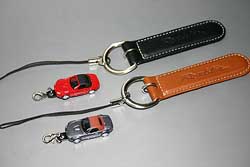 The third accessory we'd like to introduce is our original Maruha keychain made of leather.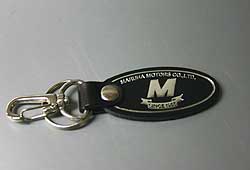 We are constantly working on providing better service and quality to our customers. Feel free to contact us with any question.
[home]
Maruha Motors Co., Ltd.
Ushizuma 2095-6, Aoi-Ward
421- 2106 Shizuoka city, Shizuoka prefecture
Japan
TEL: 0081-54-294-0076
FAX: 0081-54-294-1312
E-mail: info@maruhamotors.co.jp